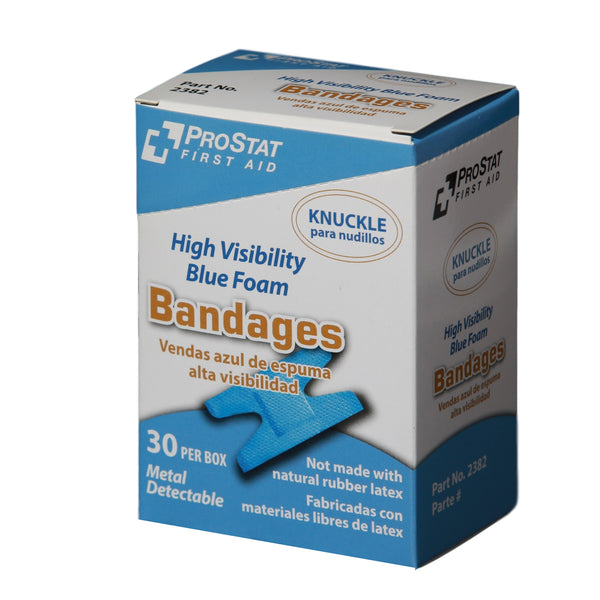 Description
High Visibility Blue Foam Adhesive Knuckle Bandages - 30 Per Box
Why the "H" shape? Standard adhesive bandages do not stick well when a cut or scrape is at the knuckle – flexing and bending a digit bunches, restricting movement and causing the dressing of the bandage to pull away from the wound. Our Hi-Vis Blue Foam Metal Detectable Adhesive Knuckle Bandages are designed with four adhesive strips to allow the bandage to twist and flex while still maintaining grip to stay adhered and to allow digital dexterity and function. Blue bandages are required in many food service and pharmaceutical processes and recommended for other uses where contamination prevention is important. The bright blue foam material will make locating lost bandages visually easy, while they are also metal detectable for discovery in critical processes. Foam bandages offer the added benefit of being suitable for application to infected wounds.
Foam for comfort as well as stretch and elasticity when added compression is required
Non-stick surface
Rounded corners prevent snagging and roll-up
Latex-free
ProStat High Visibility Blue Foam Knuckle Bandages are packaged in a top dispensing refill box that fits all brands of first aid cabinets.